Booking system for online classes, courses and language schools
Experience why more than 190,000 customers world-wide trust us with their online bookings.
Start building your own online class booking system today.
Let students book classes and courses online 24/7
Create an online schedule for your language school, online classes, courses or coaching classes and let your students make their own appointments. Simplify student management with SuperSaaS scheduling software. You can add sign-up forms to capture student details such as their level. Integrate payment options to let students pay for courses upfront. The system automatically sends confirmations once the booking is made. If you have multiple teachers, you can let them manage their own schedule.
Automate your class planning with online scheduling software
Easy to set up and configure
Add personalized messages and let the schedule speak to your students

Fits your budget and scheduling needs
Free full-feature trial version and paid plans that start at super low premiums
Easy to integrate on other platforms
You can add the schedule to your website or integrate it on your Facebook page
Different kinds of payment options
Let your students pay directly with PayPal, Stripe or credit card
Online scheduling software for language schools and online classes makes class planning a breeze
Speaks your language. Available in 33 different languages to connect with your students from all over the world
24 × 7 booking. Spend less time playing phone or email tag and let your students make their own appointments online
Multiple tutor scheduling. Allow your tutors to update their availability via their personal Google Calendar
Payment processing. Accept payments from your students via PayPal or credit card
Versatile calendars. Use the schedule for one-on-one meetings, group lessons and to directly collect student information with custom forms
Send Automatic text/email reminders. Send reminder messages to prevent no-shows and personalize your confirmation messages
Try it now!
No payment details required. Our free version is free forever.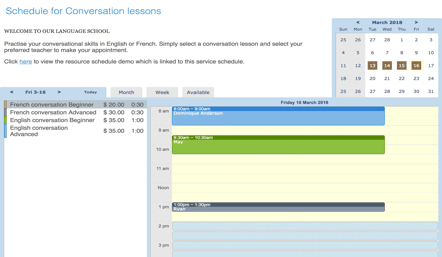 Our scheduling software works great for:
Online classes
Course bookings
Language schools
Tutor booking software
Coaching classes
And many more…
Change the schedule depending on the selected language

Add a logo and customize the layout of the schedule. You can change the text that is sent for confirmation and reminder messages and even show students a different message depending on their selected language.

Easy access on every device

The system is accessible on laptop, desktop, mobile and tablet. That way you will always be up-to-date on new and changed appointments and your students can always book online.

Manage your students and classes

Manage all your classes, meetings and personal appointments in one calendar. You can also manage your students by adding notes to keep track of their attendance and their personal progress.

Integrate the schedule on your own website

The schedule is easy to integrate on your own website but can be used as a standalone schedule as well. It's also possible to integrate the schedule with Facebook.

Collect additional information

You want to know what level of expertise your students have? Or you want to keep notes on a specific student? You can customize forms to contain fields changeable and/or visible only to the administrator.
Follow the step-by-step tutorial to set up your class booking schedule
Create an account
No payment details required. Our free version is free forever.
Our customers make us blush
SuperSaaS is different from many other providers, there customers service is excellent, they get back to you very quickly and resolve issues very quickly. SuperSaaS integrates well with many payment providers and allows integrations via Zapier. And it offers great value for money.
SuperSaaS is an integral part of our business. It is easy to use, provides flexible payment options and handles volume of bookings. All our students book our classes with our online booking system which reduces our admin work. SuperSaaS is an ideal system for small and growing businesses.
SuperSaaS is user-friendly and easy for an administrator to add and maintain classes/sessions. I like that they maintain the history of the session for a given period of time. It helps when needing to go back and see if a specific person took that session. SuperSaaS makes it easier to record class entries instead of manually tracking registration via emails.