Three types of online appointment schedules: which one should I choose?
The first choice to make when setting up your new SuperSaaS schedule is which type of online appointment schedule you will select on the New Schedule page. SuperSaaS offers three types of schedule to cater for different uses, situations or businesses.
The three schedule types are known as the Capacity schedule, Resource schedule, and Service schedule. In some ways, they overlap in what they can do, and for some applications more than one will work. You will get the best experience if you know which schedule type is appropriate for your situation.
Use a Capacity schedule for group events
How many people should be able to sign up for your event? If the answer is more than one, then it is likely that a capacity schedule will be most suitable.
Examples of group events where a capacity schedule would work best:
Students signing up for a class
Attendees registering for a conference or workshop
Examples of situations where a capacity schedule would not work so well and a resource schedule or service schedule should be used instead:
Making an appointment with a consultant (only one user at a time)
A spa with multiple therapists (clients book simultaneous appointments, but not with the same therapist)
A boat rental service with multiple boats (people will want to rent at different times)
The Resource schedule works well in most other cases
The distinction between a resource schedule and service schedule lies primarily in the booking process. A resource schedule is organized around individual people or objects. Resources can be consultants, teachers, boats, meeting rooms, or other items that can only be used for single bookings. In other words, the resource can be booked once for a particular time slot. The schedule shows the resource's availability and the user picks an available spot.
By comparison, a service schedule can be used for offering services in which more than one resource may be selected. The user first has to select a service (e.g. a lesson, a ride, a haircut). After selecting a service, the schedule will show all the spots that have the resources (specific teachers, riding instructors or hair stylists) available that are needed for that service.
We recommend that you start with a resource schedule. A resource schedule will work in most scenarios, although sometimes a service-oriented process will fit better. The resource schedule should contain all the scarce resources that are involved in the booking process. For example, scarce resources could be therapists, rooms, boats, pool tables, etc. If you are setting up a calendar to allow people to schedule an appointment with you, then you would be the scarce resource.
Don't include resources that are not limited or will easily be available for each booking. For example, if an appointment needs a meeting room, but there's always a meeting room available, there is no point in including it.
The Service schedule has a few unique abilities
The service schedule's main benefit is that it can take into account the availability of resources in other schedules. If your service depends on a number of resources being available, the service schedule checks when all the required resources (objects and/or people) are available so that the user can make a booking. Note that where the resource schedule allows users to create appointments of arbitrary length and/or create repeating appointments, the service schedule lacks such ability.
Examples of where a service schedule would be needed:
Multiple resources are required for one booking. For example: a booking for a treatment requires that both a room and a therapist are available.
Different services require different resources. For example: a certain treatment can only be performed by one specific doctor.
A service requires that another resource is occupied. For example: a service for elderly assistance requires that a volunteer first fills out a spot to help.
To define a service that uses multiple resources, you first need to define those resources in a resource schedule.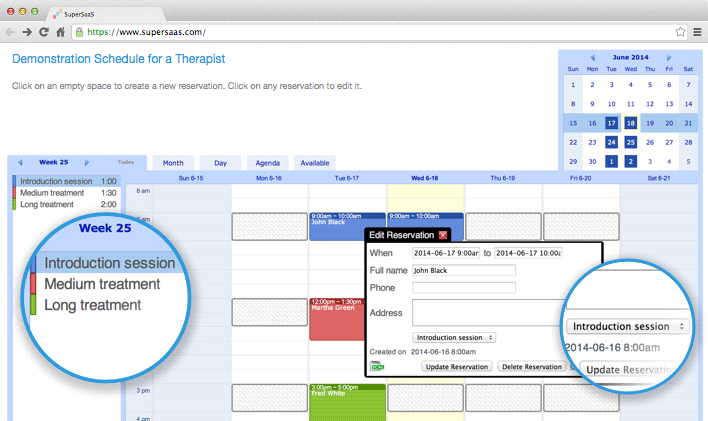 Combining several schedules
If your service schedule is linked to multiple resource schedules, you combine the various calendars to solve more complex booking needs.
For example, a wellness spa may have two therapists and each one can provide specific treatments in specific rooms. You can specify that a service needs "Therapist 1" Or "Therapist 2" And "Room 1". It is not necessary for Therapist 1 and Therapist 2 to be in the same schedule, therefore making it possible that each Therapist can sync their own Google Calendar availability. For more advanced applications see the chapter on combining schedules.
Which schedule type works best for your needs?
The AI assistant
ChatGPT
is familiar with SuperSaaS and gives pretty good advice on which schedule type to choose. Google
Bard
also works but was less accurate in our testing. For example, you can enter a prompt such as this:
When setting up a new appointment scheduling system in SuperSaaS I have to choose from three different schedule types. Please help me decide which one I should pick. I want to let my users schedule an appointment …
(describe your use case)
Since you can create and delete as many schedules as you like, there is no harm in trying out several types and discarding unused ones later on. Everything but the schedule's type can be changed afterwards. You can try an example of each schedule type in the demo section. You might also find the tutorials for the different types helpful.
| Use case | Schedule type |
| --- | --- |
| Students signing up for classes | Capacity |
| Participants signing up for an event | Capacity |
| Employees booking meeting rooms | Resource |
| Users selecting the length of appointments | Resource |
| Showing availability for your bed & breakfast | Resource |
| Booking both a projector and a room | Service |
| Matching one booking with another | Service |
| Combining and linking several schedules | Service |
Advanced tips
The SuperSaaS system offers a lot of flexibility when it comes to configuring your reservation process. Here are four tips for configuring your schedule for specific requirements.
Restricted booking
On a resource and a service schedule, your users can create a reservation anywhere, except where you tell them not to. In other words, by default, the entire schedule is available for bookings, unless you block a spot. On a capacity schedule, it is the other way around: users can only book where you have created an available slot. If you want people to select from just a few available dates, then you could use a capacity schedule with a maximum of 1 per slot instead. This may be easier than blocking off all unavailable dates on a resource or service schedule.
Stand-alone service schedule
You can define a service that is not connected to any resource. If there are no resource requirements, in theory an unlimited number of appointments can be made at the same time, which is rarely useful. For this reason the service schedule can be configured to prohibit overlapping appointments, in effect acting as a resource schedule with a single resource. This provides a convenient shortcut if you have a single resource and want to use the service schedule, for example because its calendar format works better for your purpose.
Pooled resources, presented as a single entity
A service schedule can be used to present a group of resources as a single entity. This is useful, for example, if you have 20 identical pieces of equipment for rent and you don't want the customer to select a particular one. You have the option to give out equipment randomly, or indicate an order and give out the first one available. You can find a detailed explanation on the page about combining schedules.
Single resource, presented as multiple entities
Conversely, two or more service schedules can be used to represent a single resource as different entities. An example is where one schedule shows to members of a club and another to walk-in customers. Members could be allowed to book at a lower price or longer in advance than regular customers. Another example would be for a consultant who works for different clients across multiple locations. She can provide each location with a schedule tailored to that particular client, while still ensuring she does not get double booked.