Tour and activity booking software
Experience why thousands of tour operators world-wide trust us with their online tour and activity bookings.
Start building your own tour or activity reservation system today.
Sign up for a free account
No payment details required.
Our free plans are free forever.
Let customers book tours and activities online 24/7
No more per-ticket fee payments or extra commissions, increase your sales and profit margin by accepting online bookings and payments with our tour reservation system. You can refer to the schedule via a link, or you can choose to integrate the system on your website or Facebook page. When you sell tours online, you can add customers to waiting lists, reduce no shows with customized automated text/email reminder and set your customized cancellation policy.
Online tour scheduling made easy and affordable

Pay only when you use it
Works well for seasonal businesses because you can drop back to the free version during off season without losing your configuration
Add users to waiting list
Configure the system to add users to the waiting list, send them automated reminders and request their payment when they're confirmed for the booking
Reduce no shows
Request customers to provide a confirmation deposit while booking, customize your cancellation policy and reduce no shows with automated reminders
Payment Processing
Accept online payments, create promotional offers, sell tour packages and set pricing rules to increase revenue during the holiday rush
Receive more tour and activity bookings even when you're away from your desk
Get a personalized booking page: Offer multiple tours or activities on the same schedule. Allow your users to book multiple tours and see their capacity simultaneously.
Works with the calendars you already love: Sync your booking calendar with your Google or Outlook calendar
Complete control over when people can book: Set booking constraints and determine how far upfront bookings can be made
Pick your own style and easily match your branding: Set up the layout of your schedule to match the style of your own website and remove all references to SuperSaaS
Share or embed your booking system: We provide you with a URL that you can share with your customers, or you can integrate the booking system into your website or Facebook page
Get started
No payment details required. Our free version is free forever.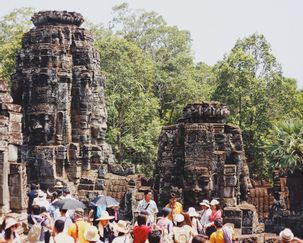 Whatever type of tour or activity bookings, we've got your scheduling covered:
Walking tour
Sailing tour
Segway tour
Wine tour
Bike tour
Food tour
Hiking tour
Horse riding tour
City bus tour
Ziplining tour
Hot air balloon tour
Boat cruises
And more…
Tailor the booking software to your specific tour scheduling requirements
Receive automatic notifications: You can choose to receive notifications on your phone or via email every time a booking is made or changed on your schedule so you can always stay informed.
Create your own cancellation policy: Allow customers to cancel or reschedule until a certain point in time. Reduce unwanted cancellations by requesting a confirmation fee from customers while booking an appointment.
Automate payments: Accept online payments directly to your bank account.
Respond to supply and demand: Modify the capacity of your tour if the demand is high and match the requirements of your market.
Connect with your favorite apps and software: Connect your existing systems with SuperSaaS, for example, send invoices for appointments on your SuperSaaS schedule via Invoice Ninja.
Create your own custom domain name: Claim your custom domain name to give your business a unique online address without any mention of SuperSaaS.
Offer tour packages: Sell tour packages to customers and allow them the freedom to book more than one tour at once.
Our booking system makes tour and activity management a breeze
Reduce admin time with automated reminders: Reduce admin work, share relevant tips, documents and instructions to keep your customers ready for the tour with customized SMS/email notifications before the tour.
Easy customer management: Keep track of your customer information in a single place and access important account details anytime.
Offer better customer service: Generate a unique booking ID for each booking, and easily refer back to the details with the booking ID for better customer service.
Stop feeling tied up to your phone and desk: Access your booking schedule anytime and anywhere on a device with an internet connection.
Create custom forms: Request more customer details with custom designed forms attached to your schedule.
Attract more customers with promotional offers: Create your own discount coupons and promotional offers to attract more customers. For example, offer a 20% discount to people who stay in a certain hotel when they book your tour online, offer 10% discount when they book more than 5 spots or sell them packages for more than one tour.
Encourage users to leave a review:Send automatic follow-up emails from the tour reservation platform and encourage your users to share their review of the tour at the suggested link.
Get started
No payment details required. Our free version is free forever.
Our customers make us blush

SuperSaaS is the best online scheduling system! I could use the free version for as long as I wanted and when my business starting growing, the subscription wasn't a knock. Such great options when you're setting it up. SuperSaaS has helped me spend far less time on admin, so I can focus on growing my business and making it easy for my customers to book whenever it suits them. They don't have to wait to find out when I'm available or if their appointment is confirmed and I love that it all happens automatically! And I could set up my appointment schedule just the way I wanted it.
SuperSaaS is an extraordinary flexible system with low price. SuperSaaS booking system has a lot of options on how you can make setup according to your business processes. I appreciate that SuperSaaS is part of Make and Zapier which allows smooth integration between various systems. I love the fact that we can change our subscription anytime and our business is seasonal, and we can downgrade or upgrade the system according to our needs.
I love that the system is very easy to set up, offers great customer support and comprehensive online manuals for any help. We run a motorcycle advanced training business and SuperSaaS offers all features for our clients to book the training sessions.
SuperSaaS is a great tool. It is easy to use and has good quality for the price. The best feature is, without doubt, the customer service: fast, effective, and kind.